---
---
Product Details
What's in the Box?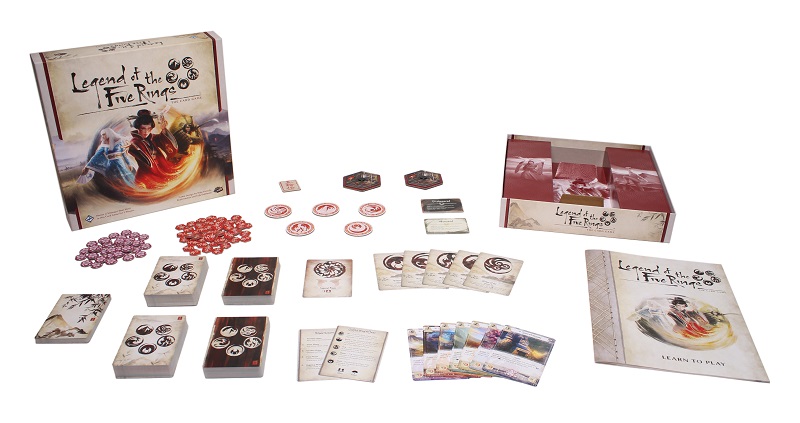 More Than 350 Beautiful, High-Quality Components!


7 Stronghold Cards (1 for each clan)
17 Province Cards
117 Dynasty Cards
5 Role Cards (double-sided)
98 Conflict Cards
2 Reference Cards (double-sided)
1 Imperial Favor Card (double-sided)
20 Status Tokens (double-sided)
40 Fate Tokens
50 Honor Tokens
2 Honor Dials
1 First Player Token
5 Ring Tokens (double-sided)
Honor is Stronger than Steel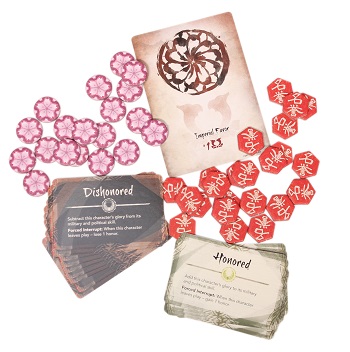 Making its triumphant return as an LCG (Living Card Game),
 

Legend of the Five Rings: The Card Game

 

is a two player game in which each player takes the role of one of the seven Great Clans of Rokugan. In the Game, players vie for political and military dominance while simultaneously observing the strict codes of conduct that preserve their honor.

Each player commands their forces from two different decks: a Dynasty Deck that fills their provinces with characters and holdings, and a Conflict Deck that can be used to turn the tide of a conflict. So, gather your forces and fight with honor in

 

Legend of the Five Ring: The Card Game!
A Battle Rages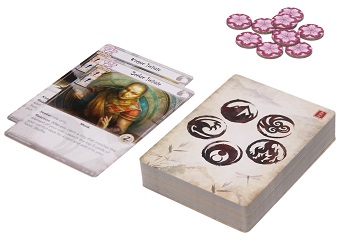 During a game, players engage in conflicts against their opponent's provinces in an attempt to break them. The first player to break the province that holds their opponent's stronghold wins the game. However, the players must also monitor their honor as they contest one another, for it is possible for a player to win by achieving a high degree of honor, or to run out of honor and shamefully lose the game.

These battles rage over the course of many rounds, each made up of five phases in which players will marshal their forces and allocate resources, scheme and plot against each other, engage in martial or political confrontations, indulge the hand of fate, and prepare for the next round.

Building Your Own Deck
Although
 

Legend of the Five Rings: The Card Game

 

can be played as is, out of the box, it is a Living Card Game that encourages players to build their own custom decks. Players can select one of the seven clan stronghold to determine which cards they are able to put in their decks, and then they will construct their own 40-45 card Dynasty and Conflict Decks from their In-Clan and Neutral Cards.
Seven Clans to Choose From!
Each of the seven clans of Rokugan has its own strategy to try and achieve victory. The Crab Clan seeks to outlast aggression, turning their defense against attacks. The Crane Clan leverages its political might to devastate opponents during conflicts. The Dragon Clan focuses on self-improvement, making good use of attachments and flexible in military and political conflicts. The Lion Clan lays it all on the line in all-out aggression through overwhelming numbers. The Phoenix Clan are masters of magic and pacifists, using their mastery of the rings to sway fate in their favor and pacify their opponents. The Scorpion Clan seeks to protect the Empire by any means necessary, leveraging their dishonor as a resource. Finally, The Unicorn Clan makes use of its superior maneuverability to dominate conflicts, bringing characters in and out of battle on a whim.
More Expansions to Come!
The Core Set is not the end! Plenty of expansions are set to release for
 

Legend of the Five Rings: The Card Game

 

that will let you try new strategies and customize your decks with new cards! New Dynasty Packs are coming in the near future, so be on the lookout for the latest!
Lead Your Clan to Victory
Select your clan, build your deck, and prepare to let your actions and fate decide who will emerge from battle victorious. Pick up your copy of
 

Legend of the Five Rings: The Card Game today!
---